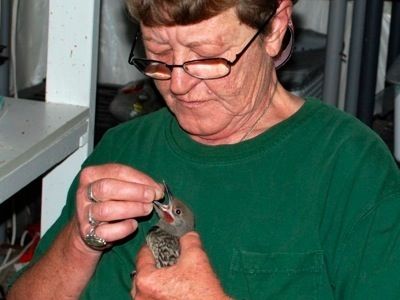 Wild Bird Rescue & Rehab needs volunteers to help feed and care for sick, injured and orphaned wild birds as well as for support tasks. Volunteers feed birds, clean cages, transport birds to and from vet appointments, release birds back into the wild and rescue/capture birds in need. It is hard work but very rewarding for kind and nurturing people who love wild life and who want to make a difference in their lives. Training is provided.
We do not receive any financial assistance from the Colorado Division of Wildlife or any government agency. We rely on donations from the public and volunteers. Cash donations are always welcome.
Additionally, Wild Bird has volunteer opportunities for individuals who don't wish to or can't volunteer to work directly with the birds.  Volunteers can assist with fundraising, public outreach, newsletters, washing dishes, doing laundry, building and maintenance of the Wild Bird facility, and technology concerns including the maintenance of the website.
Interested individuals should download and fill out the Volunteer Application Form and bring it with you to your orientation session.